MIMS Ireland is the leading Irish drugs directory and has been a trusted guide for Irish General Practitioners and other healthcare professionals since 1960.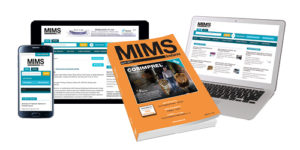 Written in a concise and easy-to-use format, its drug monographs are constantly and consistently updated by an expert team and it is recommended reference material by the Pharmaceutical Society of Ireland. Therefore users can feel confident and assured when using it as a prescribing guide.
MIMS Ireland provides up-to-date product prices in euro, guidance on the use of medicines in sport as provided by Sport Ireland and advice on safety issues by the Health Products Regulatory Authority.
Health professionals can also access clinical reports highlighting new data on drugs, summaries of clinical guidelines in a variety of therapeutic areas and information on new products and discontinuations.